Lake Cave, Margaret River
One of the best things about travel is the unexpected discoveries.
Think of WA's Margaret River and the first thing that comes to mind is wine. Not just wine, but quality wine. To the point where when in a bottle shop trying to make a choice about what wine to buy, you know you can't go too far wrong if the label says "Margaret River".
But for a long time I never asked myself where exactly is "Margaret River"?
It turns out that it is in the middle of that south west bit of West Australia that sticks out on the map. It's about a 3 or 4 hour drive south of Perth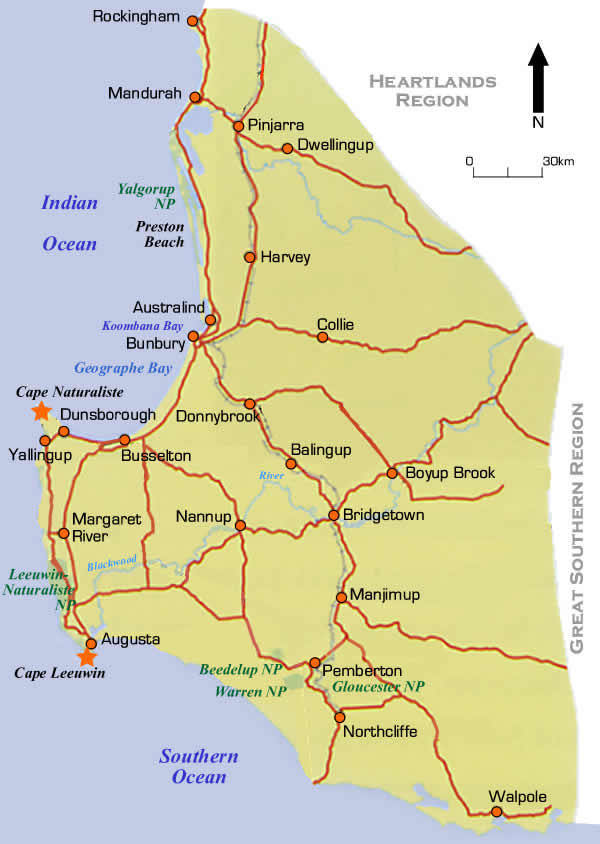 And yes, as you would expect, there are lots of vineyards and wineries. And the surf coastline is pretty good too.
What I did not expect is that the region has lots of ancient subterranean limestone caves. Part of the area is formed from the shells of ancient sea creatures and that's why there is so much porous limestone-like earth beneath it.
That type of calcareous rock slowly dissolves in water, drip by drip, creating massive underground caves and formations.
The Lake Cave is one of the deepest in the area. It's at the bottom of a sinkhole or doline, which is basically a big hole in the ground created when an underground cave collapsed. 
That's amazing in itself, to see a 45 metre chasm in an otherwise flat landscape. But this is a sinkhole you can easily step into, where you can still see stalagtites forming, not in some cave but in full daylight.  It's like a scene from some Alien movie, complete with still dripping liquid…
But the truly amazing treasure is further down, at the bottom of this 45 metre deep sinkhole, where there is the entrance to an even deeper cavern, a further 20 metres below.
That's where you enter the Lake Cave. An extraordinary pristine marvel of ancient and still forming crystalline stalagtites and columns. I've seen many limestone caves before, but I've never seen anything quite so exquisite as this. 
The cavern is not that big – perhaps 80 metres long, with a fairly shallow ceiling. It's 65 metres below the surface and worth every step of the climb down and up.
A highly recommended experience!
https://www.happylogic.online/wp-content/uploads/2023/02/CaveLakePic-e1675949740928.png
346
620
Ian Allen
https://www.happylogic.online/wp-content/uploads/2018/02/LogoMaxTrans-1-300x278.png
Ian Allen
2023-02-10 00:36:21
2023-02-10 00:43:40
Lake Cave, Margaret River